Located in the southern reaches of the central highlands, Sri Pada or Adam's peak in Sri Lanka is one of the most visited places on the island. The legend behind is the main reason for its sacredness. The first thing that comes to our mind is the "sacred footprint," which Buddhists people consider as the footprint of Lord Buddha. Of course, some other beliefs are also there to discuss here. Lately, this iconic place has become a top attraction of foreign travelers from around the world as the legend behind it is brilliantly impressive. According to "Sri Lankan" Buddhists history, the sacred left footprint of the Lord Buddha, which we can see as a rock formation near the summit; is the icon there. The god Sumana Saman invited Lord Buddha to place his sacred footprint on the mountain; hence people can worship it.
Adam's peak in Sri Lanka
This is what the Christians believe about it. Since Adam ate forbidden fruits and expelled from paradise, he fell upon the earth on top of the mountain where he stood on one foot for a thousand years. Hence, Adam's thousand-year-long distress on the mountaintop left this 1.8 m (5 ft 11 in) rock formation near the summit. The Hindus, on the other side; consider it as Lord Shiva's footprint. The Muslim tradition believes that it is the footprint of 30-feet-tall Adam (Adam's Peak Sri Lanka – قمة آدم في سريلانكا). All these facts suggest that Sri Pada or Adam's peak is a place that people from many societies and religions visit with sacred feelings/thoughts in their minds.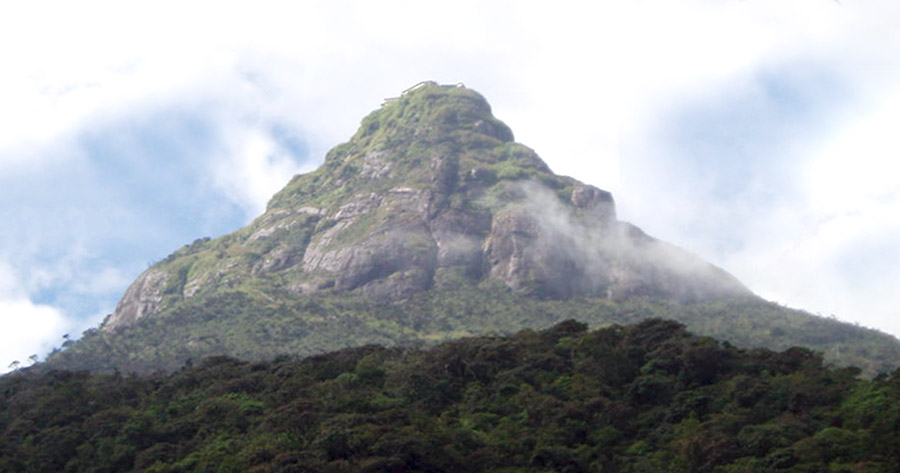 When to visit Sri Pada?
Well, this is one of the top factors to consider if you visit Sri Lanka to be on this holy mountaintop. Well, don't worry! The "PILGRIM" season or the season that you have access to the holy mountain extends from December to May. The "Unduvap" full-moon day in December is the beginning day of the pilgrim season and ends in May on the Wesak full-moon day. It is believed that wildlife including elephants visit this holy place for worshiping during offseason. Hence, Sri Pada is inaccessible during the offseason.
A quick tip: Sri Pada will be a crowded place during pilgrim season, especially on full-moon days. Hence, be ready to stand in a stationary queue for hours. Still, climbing the mountain will be a memorable/unique experience, which you will remember for a lifetime.
Guidelines for climbers
Below are some expert tips and facts for foreign travelers:
The conical mountain is 2,243 m (7,359 ft) tall.
The holy mountain is in an exceptionally-dense forest region.
Weekends and full-moon days during the pilgrim season can get overly crowded; hence avoid such days.
Don't rush, climb at a leisurely pace.
Since rainfall can make your trip experience a miserable one, check the weather report.
Bringing your own snacks and water is highly advisable.
A raincoat, umbrella, and warm clothes are necessary items to bring.
As a foreign traveler, you will benefit from booking a tourer as they can educate you more on the holy journey.
Pick a path you like to travel to Siripada.
There are six avenues of pilgrimage to devotees from distant areas during the Siripa pilgrimage which begins on the day of Unduwap Poya. But there are only three main roads – lights, sanitary wardrobes, sinks, and security.
They are only on Hatton, Kuruwita Erathna and Ratnapura Palabaddala roads. Deraniyagala Maliboda road and Halugastenna Mukkuwatta road join Kuruwita Erathna road. Malwatta Road (Rajamale Road) joins to the Hatton Road near of the Ahala Post (Ehela Kanuva).
Hatton Sripada Road.
You can take a bus or train to Hatton and take a bus to Nallathaniya. From Nallathanni you have to cross the Siripada with the footpath.
The stairs are set up and the mountain can be reached by climbing the mountain for about six kilometers to the summit. Hatton Road is the nearest road to Mount Siri pada.
At Nallathanniya, cross over to the bottom of the Sitha gangula, Kalpavruksha Maha Viharaya, Asumaha Shravaka Maha Buddha Mandir, Makara Thorana, Japanese Peace Chaitya and meet the rituals.
Kuruwita Erathna Road.
Kuruwita Erathna Road is the oldest Siripa road. Legend has it that the Siripa Maluwa was first discovered by the tigers who traveled through these areas. But now it is a different road. There are lights on the way.
Kuruwita town is located 88km away from Colombo, on the Batticaloa-Batticaloa main road. It is 11 km from Kuruwita town to Erathna.
Public passenger transport services continue for another one and a half kilometers to Kekunahinna. Olso can travel to Kekunahinna by private vehicle.
One has to march from Kekunahne. From there the Siripa Maluwa is about fifteen kilometers away. The journey is far away but in a beautiful setting.
Rajamawatha or Palabaddala road in Ratnapura
You can come to the town of Rathnapura by driving a vehicle to Malwala, Gilamele and then to Palabaddala. Public transport services are running up to Palabaddala.
From Palabaddala to Pawanella, Doralakade, Kokktiyakanda, Lihinihela, Katukithula, Gonatalla, Getanitula, Kodiya Hela, Dharmarajagala, Galpotta Kade, Sewalagala, meet the Sitha Gangula. This cold river is over the Kalu Ganga. Thereafter, when he crosses the Heen Ganga, he goes to meet Haramitipana. About Thirteen feet down the Haramitipana Passage is Galvangediya. Kuruwita meets the Erathna road. This road is also equipped with electric lighting. The road to Palabaddala is about fifteen kilometers.
Deraniyagala Road or Maliboda Road
From Deraniyagala to Udamaliboda, a vehicle can then cross the jungle through Pandina and reach the Erathna road. This road which is named Maliboda Road is upstream of the Karu River. No electric lighting or Ambalam, temporary shops until Medahinna.
Mukkuwatta Road
From Ratnapura Malwala Junction along Wewelwatta Road to Galabada Junction and then proceed up to Hapugasthanne Haddaragangawatta.
From there, Beruhinna passes Botiyadola (Botiyadola), then meets Urumale, or Gettampana. When another goes up and joins the Ratnapura Road near the Ehala Post (Ehela Kanuwa). There is no electricity or shops on this road.
Rajamale Road or Merewatta Road
A forest road on the side of Rajamale, Marewatta, Maskeliya. This road meets Hatton Road near Ehelakanuwa (Ahala Post). But since this road has passed through a corporate estate, no ordinary people can travel there except the elite.
Suggested Read : Kandy Esala Perahera, The Grandest Festival of Ceylon
Must Read : The Best Time To Visit Sri Lanka Explained By Experts
Places To Try : Why is Ella a Top Travel Destination in Sri Lanka?